Sacramento River Wild Rainbow Trout Fishing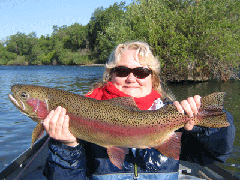 Wild trout! Fishing on the Sacramento River for trout ALWAYS produces fish. At this time of year (May and June) we have NEVER been skunked. This is some of the best fishing in California. Sacramento River guide Kevin Brock leads guided fly fishing and guided drift trips for this excellent California river fishing.
You can expect to catch 20 to 50 fish a day from 1 to 5 pounds! Enjoy good weather and fishing. Fly fishing and spin fishing can be used, and the boat can comfortably fish up to 6 anglers. The whole family can enjoy the view of the famous Sundial Bridge and the exciting wildlife.
The city of Redding, California is known for its rodeos, car shows, Sundial Bridge and hot weather. But what many people don't know is that just five minutes from the Interstate 5 freeway, you can be catching lot of big wild rainbow trout up to 5 pounds on a regular basis, just about every day!
The Sacramento River, as it winds through downtown Redding, is a world-class trout fishery. Thanks to the Shasta Dam upstream, there is a steady, year-round supply of clean, cold water that enables the Sacramento River wild trout to become fat, sassy, and prolific. It is a catch-and-release fishery, and the fish are plentiful – 30 fish trips are considered an average day, and on a memorable trip, we stopped counting when the 5 anglers on board had caught and released 80 fish on a single day.
Further downstream, there is excellent river fishing for salmon in season, and fishing for steelhead as well. For anglers that want to go fishing in California, the Saacramento River offers many excellent opportunities throughout the year. But in the springtime, the wild trout fishing in the Redding area can be some of the best fishing in California, whether fly fishing or drift fishing. For trout fishing reports in season, be sure to sign up for Kevin Brock's fishing reports.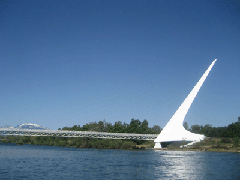 The wildlife watching in this area is great also. We've seen eagles, ospreys, otters, beavers, geese, gosling, ducks, ducklings, deer, and all types of shore birds. We've even seen a osprey grab a trout just 20 feet from the boat, which was an incredible sight.
When fishing the Sacramento River for wild trout, we use the lightest gear possible. With light line and small barbless Owner hooks or flies, we really catch these fat wild rainbow trout…and a lot of them!
This is a catch and release (no-kill) section of the river, which is large part of the reason why the fishing is so consistently good. There are only a few boats on the river every day, a few drift boats and power boats. People come from all over the country to see the world famous Sundial Bridge, but do not know about the fabulous trout fishing in the river it spans. On these guided Sacramento River wild trout fishing trips, you'll not only see the bridge, but you can catch the big wild rainbow trout that swim right underneath it. It truly is a incredible wild rainbow trout fishery, and a favorite with many of our fishermen.
This Sacramento River guided fishing trip is great for beginners and experts alike. With your Sacramento River guide Kevin Brock's skillful instruction, beginners will quickly learn how to cast, learn the feel of a bite, and learn how to hook fish on their own. They'll have lots of fun, and will catch trout. And every year, veteran skilled anglers come to fish the Sacramento River near Redding for these colorful wild rainbows too, and they all leave saying the same thing: "We just can't believe how good this fishery is!" It truly a one of a kind, world class wild rainbow trout fishery here in Redding, California.
What to bring:
A current CA fishing license
Layers of clothing – cool in morning, warm in the afternoon
Snacks & beverages
Sunscreen
Camera
PFA – Positive Fishing Attitude
Sacramento River Wild Trout –  At a Glance
Fishing trout approx. May 15 to June 15
Fly fishing and spin fishing are available
Often incredible 20-50 fish days!
Big, colorful wild trout
Catch and release fishing
See the Sundial Bridge
Stay at Oxford Suites in Redding, CA (Mention Fisherman for discounted rates)
Easy drive from NorCal areas
Call Kevin Brock today at 800-995-5543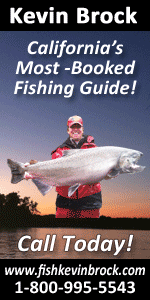 Sacramento River wild trout area