Smith River Salmon Fishing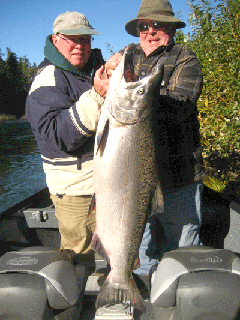 The Smith River is known for crystal clear waters, towering redwood trees, and is home to a run of huge, bright King Salmon. While the average king salmon (chinook) weighs 18-25 pounds, each year salmon are caught up to 60 pounds, and sometimes even larger.
In November, professional Northern California fishing guide Kevin Brock leads daily guided fishing trips on the Smith River, fishing for these hard-fighting bright Smith River king salmon.
Kevin Brock's Guide Service is operated under Special Use permit with the Six Rivers National Forest and is an equal opportunity provider.
Cost: All guided fishing trips are full day trips and cost $250 per person. This includes all rods, tackle, safety equipment, fish cleaning and a knowledgeable professional fishing guide. A valid California fishing license and a North Coast salmon report card are required for salmon fishing in the Smith River.
Smith River Water Levels
Water levels in the Smith River can change rapidly when storms come through, and can make a difference in fishing success. When the flows are low or dropping, the fish can "hole up" and not travel. When the water levels are increasing or high, the fish move freely and new salmon and steelhead travel up the river quickly.
What to bring:
A current CA fishing license
North Coast salmon report card
Steelhead report card
Good quality rain gear
Warm clothing
Snacks & beverages
Camera
Ice chest for your lunch, drinks, and fish
PFA – Positive Fishing Attitude
Smith River – At a Glance
Fishing here in November
Stay in Crescent City or Smith River, CA
Wild scenic river, one of the last undammed rivers in CA
No motors allowed on this river
Variable season due to rain
Call Kevin Brock today at 800-995-5543