Kevin Brock's Guided Fishing Services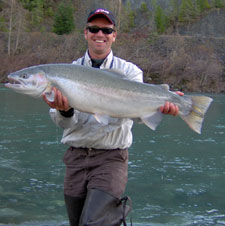 Kevin Brock is a year-round professional fishing guide, specializing in guided trips on top West Coast Rivers. He is rated as one of the best salmon and steelhead guides by the Salmon and Steelhead Journal, and has been professionally guiding year-round since 1995.
Kevin fishes at the very peak of the season for each area, when the fishing is the best, so is able to consistently offer his clients the best fishing experience possible. Being on the water an average of 300 days per year gives Kevin an incomparable depth of experience and intuition, and a very high fishing success rate for his clients. When you want to catch fish, Kevin Brock is the guide you want – no guide works harder, and very few can match his professionalism, enthusiasm, and experience.
Kevin offers guided trips for King Salmon in numerous locations throughout the year including but not limited to the Feather River, Sacramento River, and American River.
Steelhead trips are available in numerous locations including the Smith River, the Chetco River, and the Eel River from January to March.
Striped bass trips are offered in numerous locations throughout the year, including but not limited to the Feather River, the Sacramento River, and also in the Delta.
Fishing for Trout, Shad and Silver Salmon is offered in numerous locations, including but not limited to the Sacramento River in Redding and Chico, and also in Lake Oroville.
All of the equipment is provided for your fishing trip, using top-quality fishing gear and proven products, many found on the Pro Staff page. Depending on the season, fishing is from a well-maintained jet boat or drift boat.
Cost: All West Coast professionally guided fishing trips are full day trips and cost $225 per person. This includes all rods, tackle, safety equipment, fish cleaning and an extremely knowledgeable professional fishing guide.
We have the capacity for groups of any size; no group is too large, singles are welcome, and special needs and requests can be accommodated.
Call Kevin Brock today at 800-995-5543 and see where the best fishing is! Kevin can also be reached by e-mail at FishKevinBrock@gmail.com, or by using the Contact form.
For further details on the professional guided fishing trips offered by Kevin Brock, please see the links and fishing calendar below.
Deposit and Cancellation Policy: A deposit is required to confirm and hold a trip reservation. A ten-day notice is required for cancellation. Incomplete parties will be charged for all seats reserved.
Fishing Calendar
Please note that the dates below are approximate, and that other fishing opportunities and locations are available. This calendar is meant as a general indicator of what species, dates, and locations are typically active. Kevin Brock fishes wherever the fish are biting best, wherever that may be, or wherever the client wishes to try.
| | | |
| --- | --- | --- |
| Approximate Dates | Location | Species |
| January 1 – February 29 | Smith, Chetco, & Eel Rivers | Steelhead |
| March | Sacramento River | Sturgeon |
| April 1 – May 15 | Sacramento and Feather Rivers | Striped bass |
| May – June 15 | Lake Oroville | King salmon, spotted bass (lots of action) |
| May 16 – June 16 | Sacramento River | Wild rainbow trout (fly & conventional) |
| June | Sacramento and Feather Rivers | American shad (fly & conventional) |
| June 16 – July 1 | Columbia River | Salmon & sturgeon |
| July 16 – December 15 | Sacramento, Feather, & American Rivers | King salmon |
| November | Feather River | Steelhead (fly & conventional) |
| November 1 – December 1 | Sacramento River, California Delta | Striped bass |