Sacramento River Salmon Fishing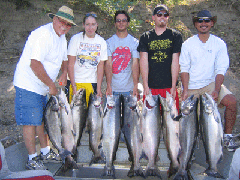 Sacramento River salmon fishing is in a league by itself. Known for the famous Barge Hole, the river attracts fishermen from all over to fish for its sometimes-huge king salmon. The 88 pound state record king salmon was caught in this river, and larger salmon have been found. Steelhead are often found below the spawning salmon later in the season, and fishing for steelhead can be very productive.
The Sacramento River is the largest river in California. Stretching over 400 miles from the eastern slopes of the Klamath Mountains to Suisun Bay, it drains an area of about 27,000 square miles, including many major fishing tributaries such as the Feather River, American River, and the Yuba River.
The Sacramento River is well-known for its salmon runs, migrating from the Pacific Ocean to their upstream spawning grounds near Redding, California. Home to several distinct salmon runs at different times of year, only the fall and late fall runs are open to fishing.
The Sacramento River salmon and steelhead spawning areas once reached far above Redding, but the construction of Shasta Dam across the Sacramento River not only created the largest reservoir in California, Lake Oroville, but also blocked salmon and steelhead migrations to further areas upstream. The Coleman National Fish Hatchery was built on the north bank of Battle Creek near Anderson, California, to help mitigate the habitat loss.
Every year, anglers come from all over the world for Sacramento River salmon fishing, and very large fish are caught regularly. The California state king salmon record of 88 pounds was caught in the Sacramento River, and larger fish have been found. The fall run typically builds from smaller numbers in early July to a massive invasion of salmon by September and October. 20 to 30 pound salmon are common, and 40 pound salmon are caught with some regularity. Guided California fishing trips with Sacramento River fishing guide Kevin Brock can be very productive.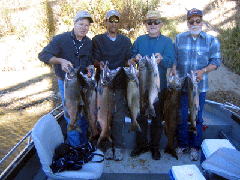 The late fall run of king salmon in the Sacramento River is known for its huge king salmon, typically 40, 50, or 60 pounds and more. 70 pounds and up is entirely possible with the late fall run. While the late fall run does not have as many fish as the earlier fall run, what it loses in quantity, it makes up for in quality. This is when the true trophy king salmon are most often caught.
Throughout its length, the Sacramento River is home to many fish species, including king (chinook) salmon, steelhead, trout, sturgeon, striped bass, shad, and bass, to name a few. The section starting below Shasta Dam has excellent Sacramento River trout fishing, a robust world-class catch and release fishery for large wild rainbow trout. Catches of over 50 trout per day are not uncommon!
Your Sacramento River salmon fishing guide Kevin Brock is an expert at fishing for Sacramento River salmon, and he knows where all the best fish-holding runs and fishing holes are. Depending on the conditions and time of day, techiques used can include backtrolling flatfish, bouncing or boondoggling roe, using spin-glows, or some combination. And anglers need to be prepared – when Sacramento River salmon fishing, the solid jolting strike of a trophy king salmon could happen at any time, and then it's Fish On!
Be sure to check the fishing report page for up-to-date Sacramento River salmon fishing reports, or the fishing report from wherever Northern California fishing guide Kevin Brock is currently fishing.
For Sacramento River fishing reports delivered right to your inbox, be sure to Sign up for Fishing Reports by Email! Depending on the time of year and where the fish are biting, this may be a Sacramento River fishing report, a Feather River fishing report, a Smith River fishing report, or a Northern California fishing report from a different location, such as Lake Oroville or the California Delta.
Sacramento River Water Levels
Water levels in the Sacramento River can make a difference in fishing success. While the Sacramento River is not as sensitive as the Feather River to flow fluctuations owing to its size, when the flows are low or dropping, the fish can "hole up" and not travel. When the water levels are increasing or high, the fish move freely and new salmon come up the river quickly.
What to bring:
A current CA fishing license
Steelhead report card (optional)
Layers of clothing – it's cool in the morning and warm in the afternoon
Snacks & beverages
Camera
Sunscreen
Ice chest for your lunch, drinks and fish
PFA – Positive Fishing Attitude
Where to Stay
Rolling Hills Casino
2655 Everett Freeman Way
Corning, California 96021
Phone: 1.530.824.3220
Fax: 1.530.824.5020
Ask for the fisherman's rate with Kevin Brock
Sacramento River – At a Glance
Region 1 – Red Bluff to the Highway 113 Bridge near Knights Landing
Region 2 – Deschutes Road Bridge near Anderson downstream to 500 feet upstream of Red Bluff Diversion Dam
88 lb California record king salmon caught here in 1978
Many very large salmon are caught each year
Large Groups, corporate accounts, private parties, and exclusive boats are available
Home of the world-famous "Barge Hole"
Excellent California salmon fishing
Very good steelhead fishing
Call Kevin Brock today at 800-995-5543