Klamath River King Salmon Fishing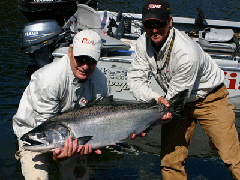 The Klamath River is one of the best bright salmon fishing spots in California, with lots of king salmon in the river. During open season, professional Northern California fishing guide Kevin Brock will be leading daily Klamath River guided fishing trips for these quality king salmon.
The Klamath River is located at the very tip of Northern California. Entering California from Oregon near the town of Hornbrook, the Klamath River has one of the largest king salmon runs in California. The Redwood National and State Parks surround the area near the town of Klamath, California, which is our base for fishing the Klamath River. With the ocean nearby and the local wildlife, this is a great place for the whole family. Bears, eagles, redtail hawks, elk, wild horses, seals, otters, deer – we see them all while fishing on the Klamath River.
The numbers of king salmon are coming back on the Klamath River. This is a place where we can catch lots of nice bright hard-fighting king salmon, which are just out of the ocean and can be very aggressive (and very tasty!). Beat out the inland heat and come fish the Klamath River for a short season that is very productive!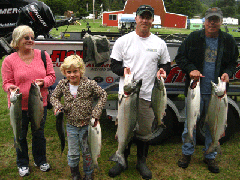 The fishing gear we use on the Klamath River will surprise you. We'll use light tackle spinning gear with 10lb test P-Line fluorocarbon line, G.Loomis drifting rods rated for 8-15lb test line, #2 Owner hooks, and perfectly Pro-Cured eggs (red). Using a drifting technique called dragging or boondoggling (which is very productive), we have landed king salmon to 40 pounds on this gear. As you might guess, the light action fishing gear makes for some very exciting fishing!
For local activities, the famous Trees of Mystery are just ten minutes away. There are also Klamath River jet boat tours, and lots to see. You can eat at the world-famous Steelhead Lodge in Klamath – you probably won't be able to finish your meal, thanks to the generous portions.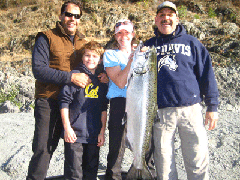 Just south of the river is the largest Roosevelt elk herd in California, and you can view these magnificent elk almost every day. The weather at this time of year is spectacular, and everything is green. It's a very welcome change from the hot dry weather inland.
Most people or groups stay in the Klamath area for two days or more so they can see everything. The fish limit is a very liberal 3 (yes, 3) king salmon per person, and there are days when we limit out for everyone. The Klamath River king salmon meat is bright red, firm, and perfect for the table or smoking. This is a very popular trip. We fish out of my spacious 26′ Fish-Rite power boat, and can fish up to six people with complete comfort. All of your fish will be processed per your request, and be ready to take home for gourmet delicious eating.
To sum up the Klamath River guided king salmon fishing trips: the Klamath River king salmon are bright, hard fighting fresh fish that are great for eating, and excellent sport on the light tackle used. We will gladly guide large groups, and there is a three fish limit per person. This trip books fast, and is a favorite for large parties. We can fish six anglers per trip very comfortably.
The town of Klamath, California is located near the coast on Highway 101, south of Crescent City (served by Sky West/United Airlines with daily service to San Francisco and Sacramento) and north of Arcata (served by United Airlines and Horizon Air, with daily service to San Francisco, Sacramento, and Los Angeles).
Cost: All Klamath River guided fishing trips are full day trips and cost $225 per person. This includes all rods, tackle, safety equipment and a very knowledgeable professional Klamath River fishing guide. 6 person minimum (full boat).
A valid California fishing license is required. You'll also need a salmon report card and steelhead report card.
What to bring:
A current CA fishing license
King salmon and steelhead report cards
Layers of warm clothing – cool in morning, warm in the afternoon
Snacks & beverages
Ice chest to take fish home in
Sunscreen
Camera
PFA – Positive Fishing Attitude
Klamath River – At a Glance
Fishing around Aug. 15 to Dec. 31 on the Klamath (2015 season; exact dates vary year to year)
Klamath, CA is on Hwy 101, north of Arcata and south of Crescent City
Near ocean, so salmon are bright, fresh, aggressive, and delicious!
Late September – early October is when the big ones show up
Light tackle used here, for lots of fun and action
Ideal trip for families and groups
Daily limits are 3 salmon per angler
Lots to see and do in the local area
A very popular trip, so you'll want to book soon!
Fresh and green, a welcome change from hot dry inland areas
Call Kevin Brock today at 800-995-5543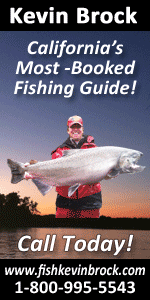 Klamath River, California