Feather River King Salmon Fishing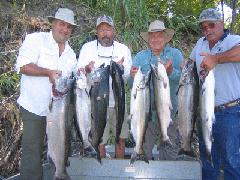 One of the best rivers to fish for king salmon in Northern California is the Feather River. The Feather River is the little sister river to the Sacramento River, but don't be fooled by its size, it has lots of monster king salmon in it.
The Feather River is a tributary to the Sacramento River. Famous for the 1800's gold rushes in the upper reaches, the 1968 final completion of Oroville Dam, the tallest earthen dam in the United States, blocked migratory fish in Oroville, approximately 50 miles from the river's confluence near Verona, California. The Feather River Salmon and Steelhead Hatchery was opened in 1967 to offset the loss of upstream spawning habitat, and has provided a consistent salmon and steelhead fishery ever since. Even during decling times, the Feather River hatchery has obtained its quota of salmon and eggs every year, and what that means is great fishing in a smaller area.
The Feather River produces excellent California salmon fishing and steelhead fishing, as well as striped bass and shad, and has produced some of the most consistent numbers of salmon in Northern California. Every season, the area around Oroville, California is teeming with anglers of all types trying to catch these magnificent fish. In years past, a main attraction was the Thermalito Afterbay outlet.
Commonly known as the Feather River outlet or the Thermolito outlet hole, this is the deepest, largest hole on the river. It attracts huge numbers of fish, and along with that, used to attract huge numbers of fishermen fishing shoulder to shoulder. For safety reasons, the outlet hole is now closed to salmon fishing, but the surrounding area produces very good salmon fishing.
Boat fishing on the Feather River can be a real treat, with lots of fish. Jet boats are most commonly used here. Consistent numbers of salmon are showing by mid to late August. That's when Feather River fishing guide Kevin Brock will be leading Feather River salmon fishing trips, offering an excellent opportunity to catch a big salmon!
The fall salmon run is the largest run of several in the Feather River (and the only run that is currently open to fishing). 20 to 30 pound salmon are common, and larger fish are caught regularly.
By mid to late October, the salmon are spawning, which attracts the steelhead to feed on the salmon eggs. Weighing around 2 to 6 pounds, these steelhead show the classic acrobatics and speed that they are famous for, and they are a lot of fun to catch. Feather River steelhead fishing with Feather River fishing guide Kevin Brock can be very productive.
Techniques used to consistently catch limits of salmon in the Feather River include backtrolling sardine-wrapped flatfish through the runs, and bouncing roe through the deeper holes. Kevin Brock is an expert at fishing with flatfish and roe, and since few salmon can resist a well-prepared flatfish or juicy roe ball properly presented, that solid jolting strike and electrifying cry of "Fish On!" happens quite regularly.
The Feather River area in Oroville also has one of the largest casinos in Northern California just a few minutes away, the Gold Country Casino. It has everything, including sleeping accommodations, a five star restaurant, a huge buffet, and one of the largest slot machine selections in Northern California. This is a great place to stay for what could be called a fish and chips trip!
There are also many other local accommodations, including Motel Six, and great places along the river to stay like River Reflections RV Resort (camping, rv, or cabins). Also, check out the Oroville Chamber of Commerce for after-fishing activities. The town of Oroville has a rich history, as it was once an important location in the Sierra Nevada gold rushes of the late 1800's.
At the end of the day, your fish will be cleaned and processed any way that you like, ready for the trip home and delicious eating. For an extra processing charge, smoking and home delivery can be arranged.
Be sure to check the fishing report page for up-to-date Sacramento River salmon fishing reports, or the fishing report from wherever Northern California fishing guide Kevin Brock is currently fishing.
For Feather River fishing reports delivered right to your inbox, be sure to Sign up for Fishing Reports by Email. Depending on the time of year and where the fish are biting, this may be a Feather River fishing report, a Sacramento River fishing report, or a Northern California fishing report from a different location, such as the Klamath River, Smith River, Lake Oroville or the California Delta. You can subscribe to the weekly fishing report, or the more frequent Hot Bite! fishing report, or both.
Feather River Water Levels
Water levels in the Feather River can make a big difference in fishing success. When the flows are low, the water is "thin" and the fish can be skittish. When the water levels are increasing or high, that brings new salmon up the river quickly.
FAQs
Here are answers from Kevin Brock to commonly asked questions about guided salmon fishing trips on the Feather River:
Are they catching fish?
I fish for a living, and if there are no fish, I will let people know the truth. In over 12 years of professionally fishing the Feather river in Northern California, I have been skunked less than 1% of the time.
How long do we fish?
At a minimum, I guarantee fishing for eight hours, and I have been known to fish longer just for one more bite.
How do i get my fish home?
I will fillet, gut, or steak your salmon so you have no extra work after getting home. For an extra processing fee, your fish can be smoked and sent right to your door step.
What is the cost of a professionally guided trip?
The cost is $225 per person, for a full 8 hours or more. This includes all rods, tackle, bait, safety equipment, fish cleaning and a knowledgeable professional fishing guide.
What kind of tackle is needed?
All fishing equipment, tackle, lures, and bait is provided. We only use the best tackle from quality manufacturers including G. Loomis, Penn, P-Line, and Pro-Cure.
What do i need to bring?
Please see the list in the Feather River Guided Salmon Fishing Summary below for recommendations.
What fishing techniques do you use to consistently catch lots of salmon in the Feather River?
Depending on the time of the season, the time of day, and what's working best, we often backtroll (boondoggle) flatfish with a sardine wrapper, or use roe cured with Pro-Cure egg cure. We also use techniques such as flatlining, bobber fishing, and power drifting. Techniques are adjusted throughout the day as necessary to consistently get hookups and fish.
Can I book a trip and come by myself?
Yes, but there will be other people on the boat. This is an excellent way for singles or smaller parties to experience professional guided fishing.
How big is your boat, and how many people can it fit?
The boat is a 26′ Fish-Rite, and it easily accommodates 6 people in comfort.
What time do you start in the morning?
As the saying goes, "the early bird gets the worm (and catches the fish!)." We start fishing early to take full advantage of quiet waters, and are often the first to hit the holes in the morning.
What is a good age for my children?
All children 12 and under are required to a life jacket at all times – this is always inforced in my boat! Other than that, there are no additional fishing licenses needed. Kevin Brock runs a family-friendly boating atmosphere, free of profanifty or any other vulgararities. If your child doesn't fish, they will not be charged, as there is plenty of room on the boat and this is something that is encouraged. You cannot spend too much time with your kids in the outdoors! If the children are not fishing, we cannot use them for an extra limit.
Where do we stay?
In the Oroville area, there are a variety of accommodations, including camping, motels, hotels, casinos, rv parks, or cabin rentals on the river. See the links below for more information.
What to bring:
A current California (CA) fishing license
Sunscreen
Camera
Sunglasses
Ice chest for your lunch, drinks, and fish
Layers of clothing – it's cool in the morning and warm in the afternoon
PFA – Positive Fishing Attitude
Feather River Salmon Fishing – At a Glance
Fall salmon fishing from July 16 to October 15
The Feather River has lots of big salmon, and lots of steelhead too
Large Groups, corporate accounts, private parties, and exclusive boats are available
Stay in Oroville, CA area
Lots to see and do in the surrounding area
Call Kevin Brock today at 800-995-5543