California Delta Striper Fishing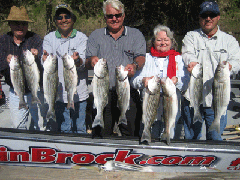 In November, there is a ton of action with California Delta striped bass. We catch stripers every day! We troll, cast, use top water lures, and live bait. There aere lots of fish, and it is an easy fishing experience for all ages.
Cost: All guided fishing trips are full day trips and cost $225 per person. This includes all rods, tackle, safety equipment, fish cleaning and a knowledgeable professional fishing guide.
What to bring:
A current CA fishing license
Layers of warm clothing or rain gear – it's cool in the morning and warm in the afternoon
Sunscreen
Ice chest if you keep a fish
PFA – Positive Fishing Attitude
Places to Stay:
Rogelio's Dine and Sleep Inn (916) 777-5878
Toll Free:  800 734-1920
34 Main Street, Isleton, CA  95641
www.rogelios.net
Delta Stripers – At a Glance
Fishing stripers approx. November 1 to November 26
Easy drive from Sacramento Valley
Tons of action
Aggressive, delicious fish
Favorite trip for large parties
Call Kevin Brock today at 800-995-5543