Professional Northern California Fishing Guide Kevin Brock

Averaging 300 fi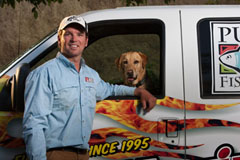 shing days a year, professional Northern California fishing guide Kevin Brock has honed his craft in a manner that few others are capable of. Specializing in guided trips on top West Coast rivers, he is rated as one of the best salmon and steelhead guides by the Salmon and Steelhead Journal, and is well known for his professionalism, expertise, and thousands of happy customers and successful fishing trips!
Northern California fishing guide Kevin Brock is widely recognized as an outstanding expert Sacramento River fishing guide, Feather River fishing guide, Klamath River fishing guide, and Smith River fishing guide, in addition to numerous other waters.
Kevin Brock is also a United States Coast Guard certified 100-ton Master Captain, and a fully licensed guide in California and Oregon. He is fully bonded and insured, and safety is always a top priority.
Kevin has grown up fishing and hunting, giving him years of experience in his field. In 1995, he turned his passion into a profession and became a full time fishing guide. He is one of the few successful FULL TIME fishing guides that make a living only from guiding.
Kevin Brock presents professional fishing seminars at numerous industry and retails locations such as:
He also appears at several charity events including:
Kevin has been a guest speaker and donated time to:
He can also be seen on Anglers West National TV.
Kevin has been featured in several local publications such as:
Major industry publications have also featured Kevin Brock and his professional Northern California fishing guide services:
You can also hear him as a guest speaker on MyOutdoorBuddy.com and on Sep's California Sportsman every Saturday morning.
On a personal note:
"I have been a full time fishing guide since 1995. Guiding has been my only source of income, and everything we own is from guiding fishermen. I started at 19 years old with only an old truck and a drift boat.
In April of 2015, I had a life-changing experience. I'm still here today only because of the grace of God and a great medical staff at UC Davis. As a result of that experience, my heart has softened with compassion and love, and my drive for success and catching fish has been taken to an even higher level.
Lots of things have changed since the early days, but one thing still remains the same: the love of the fish. I truly love fishing!  Being able to share with others and make a living is such a blessing.  I've been given so much from this business ... I'm truly blessed to give back.  All levels from beginning to experienced anglers are welcome!
I'm looking forward to taking care of you and your family or crew on the water. You will always receive 100% professionalism from me, and have a great fishing experience."